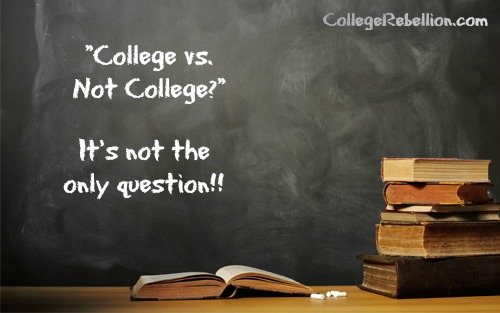 It is really annoying when I propose that somebody not go to college and they think I mean NEVER go to college.
Considering I don't know what the future holds for me or anybody else, I don't propose ever simply ruling something out like that.
See, the question is not:
Should I skip college and instead do nothing with my life forever?
Nor is it:
Should I skip college and instead do this one thing that everybody does when they do not go to college?
Because that is the whole point of not going to college: there are a LOT of things to do instead. And… it just shouldn't be a question of, "should I go to college or not?"
Here is how the question ought to be asked; you should see it all as looking at OPTIONS and then making a PLAN.
Say you want to study English, or Agriculture, or car repair. Here is how you would consider your options and make a plan:
English:
"I really like reading books, writing about them, and writing books. I am not sure this is what I want to do for the rest of my life, but I think universities provide excellent outlets for things like this. SO, instead of making college either/or, I am going to look into taking some English classes, because I think that would help me both learn and make my decision about majoring in this in the first place. I will also take the extra time I will not be spending in school and perhaps join a book club or two, form a writing group, and start a story on a blog that I will eventually compile into a novel that I will self-publish. That sounds good for now. Good thing I didn't rule out college altogether, and good thing I have a plan that involves a number of different and interesting outlets."
Agriculture:
"Sure, you can major in agriculture at a university, and that sounds romantic and grand and everything, but since my ultimate goal is to start a community edible forest, I think that is probably going to be the longest route to learning what I need to know in order to accomplish this. So, I have decided that I am going to accomplish my education in two years, like so: travel around for the first year, gain hands-on skills and knowledge on a variety of different food farms in the climate I want to start my edible forest in, meanwhile supplementing with tons of gardening and horticulture books; in the second year, I will apprentice under two different professional gardeners in two different seasons, meanwhile continuing my education in horticulture, permaculture, and starting to learn the laws of the community that I plan to build my forest in. After these two years, I will stop and see where I have gotten and reevaluate a new plan from there."
Car repair:
"I've been fixing cars with my dad and older brother since I was 8; I know there's still so much I don't know, and while my dad always liked Chevys, I personally just can't get enough of the Subaru. But I'm not ready for college just yet, and I think there is a lot that I could learn on my own before that. For the next year, I am going to scout around, find other Subaru owners, join the Subaru club in the next town over, and get as much experience as I can just toying around with people and their cars, plus becoming one with my own beautiful hatchback. Then after that, I will enroll in the 2-year vocational track at the technical college, which is really in-depth and I think I can really get a good, hands-on formal education as a mechanic – all the while still doing the Subaru thing in my spare time. After that… well, I could either become a specialist, or just be a normal mechanic that has a secret Subaru streak – let's see where all this takes me!"
The reason I wanted to point out these differences is because sometimes I see trepidation in people who are trying to make an either-or decision about college. And there doesn't need to be this fear or this feeling of taking a huge leap into a great void. You've just got to take some time, figure out what you want to do or at least want to try out, and start doing it. That might mean taking some classes, or getting involved in the community, or talking to somebody, reading a book, or taking a weekend trip to a different city… or all of the above!
Don't know where to get started? Need help figuring out what you might be interested?
Check out my new book, Life Without College: The Method. There are several exercises in it that work you through your current interests so you can find the ones that really matter; and once you've done that, the rest of the book is set up to guide you through making a plan, executing it, and keeping track of what you've accomplished, just like my hypothetical English, Agriculture, and car repair people.
Check it out! And don't forget to sign up for my e-mail list for further updates and resources.