Greetings, College Rebel Earthlings!
I have written a new book, Life Without College – The Method.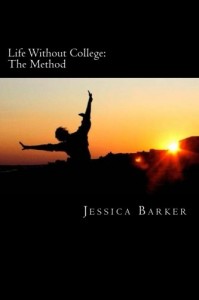 This little book is exactly that: it explains the method of the life without college.
It will be available as close to December 1st as it possibly can, in print and ebook formats!
Life Without College – The Method is divided into three main sections, which I call the "Three Ds": Dreaming, Discovery, and Delivery.
Dreaming helps you determine what it is that you actually want to do – and how you can use it to help others.
Discovery gives you ways to explore your dreams, get awesome hands-on experience, and find out if they are right for you.
Delivery covers how to present yourself – whether you have gone to college or not – in order to get the attention you need to reach your ultimate dream.
You at least have a basic idea of what you want to do. Whether it is concrete and defined like, "Play cello with the London Philharmonic," or more vague like, "put college off indefinitely so I can figure out what I actually want," you have your own opinion of what sort of direction or goal you should be working towards right now.
But how do you get from here to there? How do you even begin to begin?
This book is for you.  I want to provide you the best and most useful information in a simple and compact format that is easy to access and read.
Sign up below to receive email notifications about the upcoming book, and please share the good news with all your friends.  Talk to you soon!